Dear Parents, 
We hope you are all keeping happy, safe, and well. As you all know we will not be returning to school until September. We are now planning the work so that we are building on the essential skills that the children will need going forward. We understand that many of you will be anxious that the children are missing months of school. However, we will work closely with the teachers in both Patricians and St. Conleths and Marys so that the children will begin where they left off.
We have attached below a plan of work for the weeks beginning May 18th and May 25th for all our pupils in first class. Please email your child's class teacher if you would like the plan emailed to you directly so that you can download and print it, our email addresses are below.
Each week we have decided to create some challenges for the children to do at home. Each challenge will be associated with a learning objective but they can be completed independently by each child. If you wish, you can take a photograph of the children doing the challenges and email them to the teacher! We hope that these challenges can keep the children engaged in their learning in a fun and exciting way.
We understand that you all have your own unique circumstances at home and we don't want any parents to feel under pressure to have their child complete this work. They are suggestions, to keep your child in the habit of engaging in and completing educational activities during this extended school closure. Please feel free to email the class teacher with any questions, photographs, messages or work if you wish. Again, there is no obligation to do this but we are happy to answer all emails.
If the boys and girls would like to show their friends what they are up to, you can send a picture to room1@stconlethinfantschool.ie for the school's Twitter page.
Our emails are:
msdonohoeroom13@gmail.com           (Ms. Donohoe, Room 13)
room14@stconlethinfantschool.ie      (Mrs. Deeney/Mrs. McGrath, Room 14)
mrshudsonschool20@gmail.com         (Mrs. Hudson, Room 15)
muinteoirconnaughton@gmail.com      (Mr. Connaughton, Room 16)
stconlethsroom17@gmail.com             (Mr. O' Mahony, Room 17)
We will be doing another class zoom call at the end of May so if you would like your child to participate please email the class teacher and they will send you the zoom link and details of the day and time.
We send all our best wishes and lots of virtual hugs to all the boys and girls in first class and we will hopefully all be together in school again before you all move on to the senior schools. Until then, stay well, stay active and take care. 
Best wishes to all, 
The first class team 
Again, we want to emphasise the importance of play, especially at this time. Here is a table showing how different activities relate to the curriculum.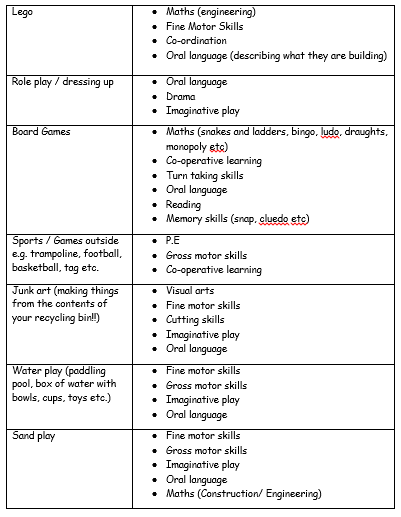 Maths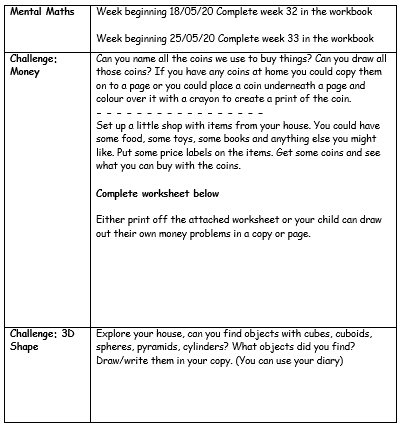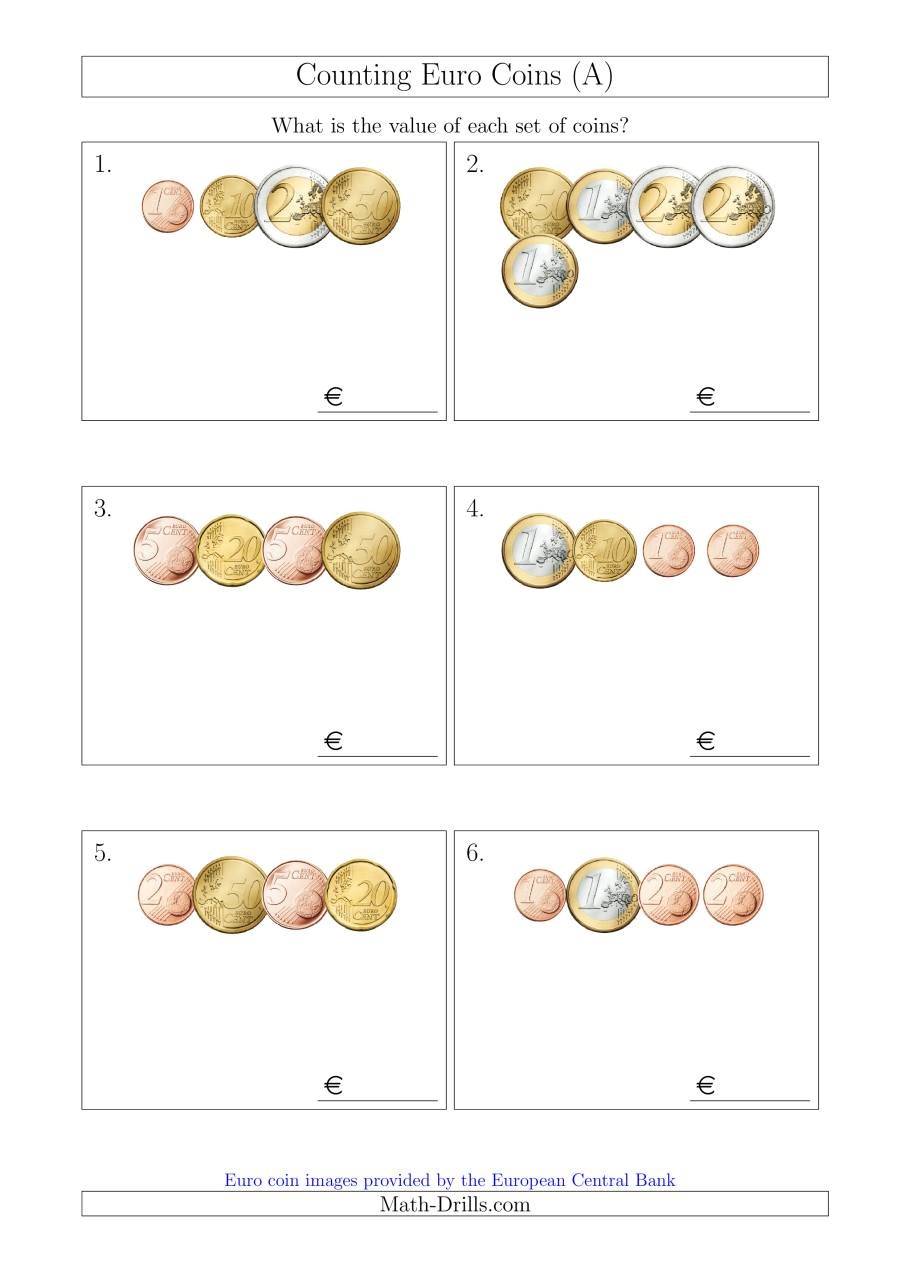 Useful websites for maths include: www.topmarks.co.uk www.twinkl.ie www.mathsplayground.com
English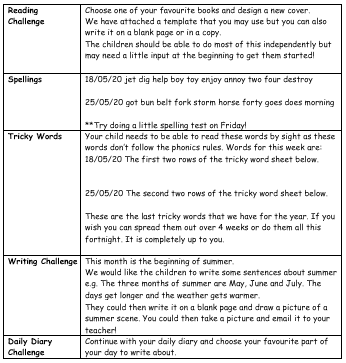 Here is a reminder of how to access more books on the Oxford Owl website:
Subscribe for free for a month or -log in using our account by doing the following:
Go to www.oxfordowl.co.uk
Click 'log in'
new username:  stconlethsfirst2020@gmail.com   password: First2020 
Click on @Oxford Owl for home.
Go to 'books' in  'ebook library'
Choose ebooks from 5-6 age group as a starting point, this can be adjusted up or down depending on your child's reading level.
Choose a level from the drop down menu.
Browse the titles, choose a book and enjoy!
Your child will have a good idea of the level they are on but there is also a quick test on this website to ascertain which books to read. They have a great selection for all ages and abilities to read online on any iphone, android or laptop.
Also check out www.phonicsplay.co.uk for more great ideas and activities. You can access all resources on this website for free using the following: 
Username: march20 Password: home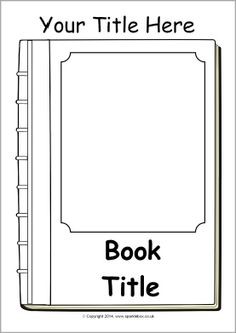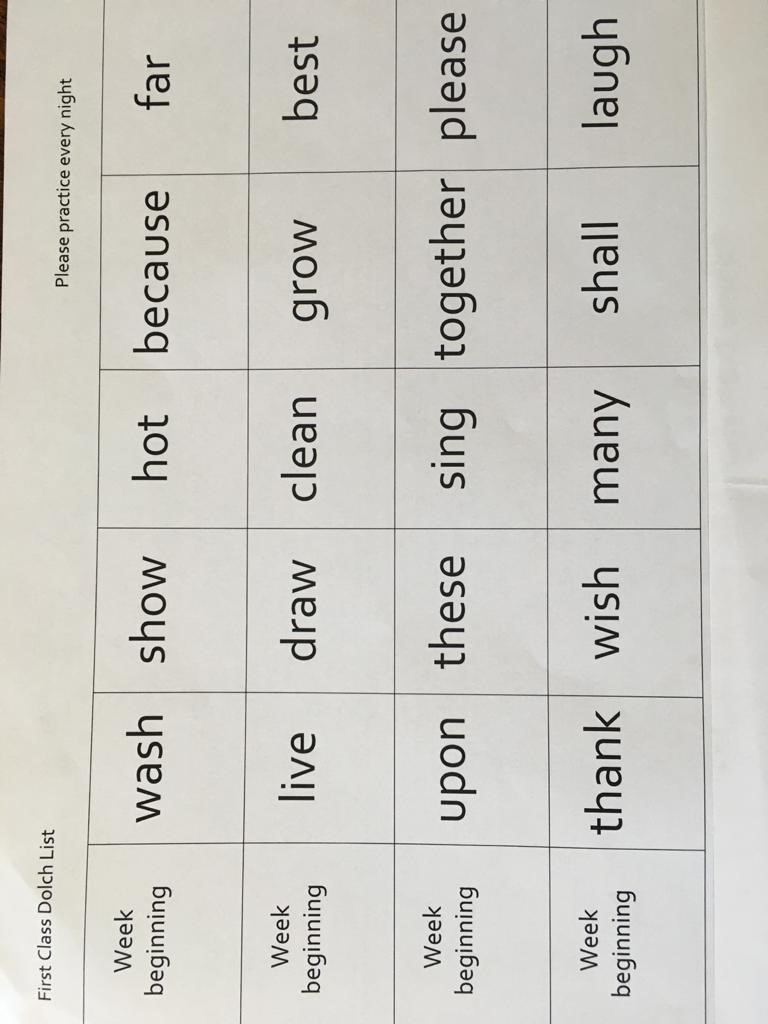 Gaeilge
These are suggestions for any parent that might wish to try some Gaeilge lessons while at home.
Scéalta le Spraoi is a youtube channel that has lots of Gaeilge stories and games. They are very infant friendly and it will give the children the opportunity to hear gaeilge in a setting that they will understand. Here are some of the videos and you can subscribe to get all the new uploads on a weekly basis.
https://www.youtube.com/watch?v=AFtumjfigtE
https://www.youtube.com/watch?v=LPyeiGZolx4
https://www.youtube.com/watch?v=jyPBhjsjTfE
Art:
 All these are examples of types of art you could do, but all the children's art is fantastic!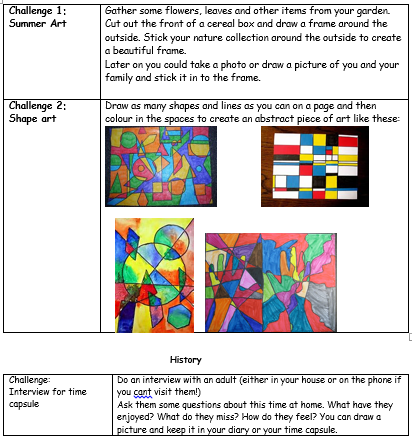 Religion
In the month of May, we remember Holy Mary and all the great things she did for us. If you have space, why not try and make a May altar. You could add some more flowers and maybe another picture to your may altar.
Please find colouring page attached.
The children could also practice praying the Hail Mary:Hail Mary, Full of Grace, The Lord is with thee. Blessed art thou among women, and blessed is the fruit of thy womb, Jesus. Holy Mary, Mother of God, pray for us sinners now, and at the hour of death. Glory Be to the Father, and to the Son, and to the Holy Spirit.
_______________________________________________________
**If your child would like to complete even more work, they can choose from the following:
Grow in Love pages 50, 51.
Wordwise workbook -choose a unit to complete (some guidance may be required)
Blue letter formation copy